In today's highly competitive marketplace having a website is critical if you want to be noticed. There are not many businesses that do not have a website and without one it is difficult to keep up with the pack. It is also vital that your website be designed in a search engine friendly way. By optimizing your website for the search engines your customers will be able to find you easily and you will gain valuable new customers. The days of the telephone book are numbered and obsolete in many people's eyes. Today's shoppers use search engines!
Nowadays, everyone knows somebody who claims to "design websites", when in actuality these people only know how to create a website. They do not know how to tweak the many aspects of a website so that it receives maximum online visibility with the highest customer conversion rates. It takes the experience from years of practice. Even if you are not selling a product online it is important to maintain a consistent feel throughout all of your marketing campaigns. At ProjectExpand.com we can assist with every aspect of your web development strategy or we can tweak your existing ideas for maximum online performance.
Important Things to Consider When Designing an Effective Website!
| | |
| --- | --- |
| Domain Name: | Does the name make sense and is it easy to remember and spell? |
| Navigation Structure: | Is the site easy to use? |
| Load Time: | Does the site load quickly? |
| Graphics: | Are the graphics clear and relevant? |
| Content: | Is the content original, quality, keyword rich content? |
| Call to Action: | Is there a clear call to action? |
| Hosting: | Is the hosting service reliable and allow for certain server scripts? |
These are just the tip of the iceberg. Read more website design tips.

~ Custom Website Design and Development Company ~
In order to produce the best possible web strategy, we will need to gather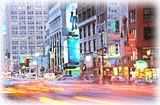 as much information as possible about your business and exactly what your service / product is. We will want to gather information about the history of the company, mission statement (if one exists), and all current logos or designs that are being used. If you have an idea about how you would like your web site to look, write down a legend that describes what pages you would like the site to include. The more specific you are about your needs / expectations the happier everyone is in the end. The more we know about your company the better we can make your website an extension of your business.
In addition to compiling any pertinent information / graphics, we recommended that you also search the internet to find examples of sites you like. Including short explanations as to what is liked and disliked greatly improves the clarity as to the direction we feel you would most like to take. We have found that the more information we have about you, the faster we can complete the project and the better the final product is for our clients.
We will take all the information you give us and analyze your competition and develop an appropriate and tactful web strategy optimized to bring you free targeted customers.
Your Website Package Will Include:
-Custom designs NOT TEMPLATES ensuring uniqueness
-Fully programmed and operational website posted to your server host
-Availability to add flash, SEO, e-commerce, custom pages, copy writing, and more
If you are not sure exactly what your best approach is contact us to set up a free face to face consultation.